CORRUGATED TANK TRUNK
Request Info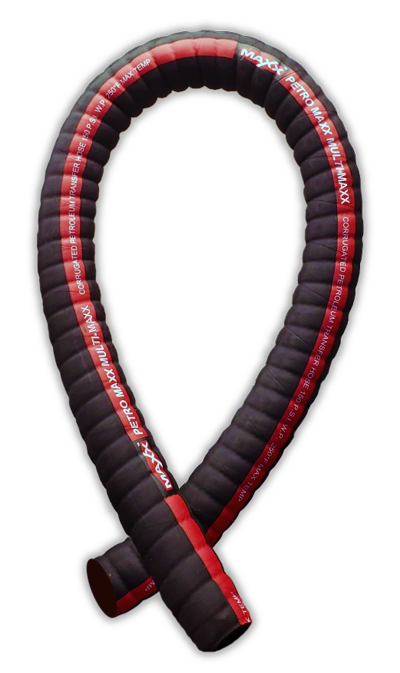 Application
This hose is designed to be used in multiple applications from water suction and discharge to petroleum transfer. The corrugated cover and dual wire helix gives this hose extreme flexibility. It is constructed using a nitrile tube giving it resistance to oil based products. It also has a temperature range of -40°F to 250°F.
Construction
Tube - Smooth Black Nitrile.
Reinforcement - Dual High tensile wire helix and polyester fabric.  
Corrugated Cover - Black Corrugated Oil Resistant Neoprene NBR Blend.
Branding - Red Stripe (CORRUGATED PETROLUEM TRANSFER HOSE 150 P.S.I. W.P. 250°F TEMP)
Temperature Range
-40°C to +121°C (-40°F to +250°F)
Standard Lengths
Lengths up to 100 ft cut to multiple of 5.
Working pressures are calculated at 70 degrees F (20 degrees C). Maximum working pressure decreases as temperature increases. Pressure ratings can only be achieved using proper coupling procedures. Bend radius is calculated at 70 degrees F (20 degrees C). Flexibility may vary at different temperatures. Please contact IRP if you have concerns regarding your application.
| | | | | | |
| --- | --- | --- | --- | --- | --- |
| Parts No. | I.D. Inches | O.D. Inches | Max W.P. @ 70°F/20°C | Bend Radius | Approx. Wt. Per. Ft. Lbs. |
| MFC-1.5 | 1-1/2 | 1.89 | 150 | 4" | 0.72 |
| MFC-2 | 2 | 2.48 | 150 | 4.5" | 1.19 |
| MFC-3 | 3 | 3.50 | 150 | 5.5" | 1.92 |
| MFC-4 | 4 | 4.50 | 150 | 9" | 2.79 |