FRAC MAXX
Request Info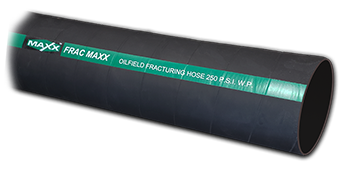 Application
FRAC MAXX is designed for rugged oilfield service where 250PSI service is required. It's NBR tube and NBR/CR cover make it ideal for handling a wide range of petroleum products as well as for 98% water and sand mixtures for FRAC tank connections. 4:1 Safety Factor.
Construction
Tube - NBR Blended
Reinforcement - Plies of synthetic cord with one anti-static wire
Cover - CR / NBR Blend
Branding - FRAC MAXX OILFIELD FRACTURING HOSE 250 PSI
Temperature Range
-32°C to +93°C (-26°F to +199°F)
Standard Lengths
100 ft lengths
Working pressures are calculated at 70 degrees F (20 degrees C). Maximum working pressure decreases as temperature increases. Pressure ratings can only be achieved using proper coupling procedures. Bend radius is calculated at 70 degrees F (20 degrees C). Flexibility may vary at different temperatures. Please contact IRP if you have concerns regarding your application.
| | | | | | | |
| --- | --- | --- | --- | --- | --- | --- |
| Parts No. | I.D. Inches | O.D. Inches | Max W.P. @ 70°F/20°C | Bend Radius | Approx. Wt. Per. Ft. Lbs. | Burst PSI |
| FRAC-4 | 4 | 4.76 | 250 | 32 Inches | 3.440 | 1000 |